Wellness Exams
​
Your dog, cat, or rabbit will receive a full physical examination in the privacy and comfort of your own home.
Vaccinations
​
We will assess your pet's exposure risks and recommend an individualized vaccination plan for him/her.
Sick Pet Exams
​
We'll examine your pet for potential signs of illness, collect samples needed for testing, and dispense appropriate medications. For more complex testing (such as x-rays), you may be referred to Caradoc Animal Clinic.
Diagnostic Testing
​
Includes microscopic examination of ear or skin swabs, skin scrapings, or cytology of masses. Heartworm and tick-borne disease testing can also be performed in your home on a small blood sample. More extensive bloodwork and urine testing is sent to an outside lab for analysis.
Microchipping
​
Microchip implantation and registration can be completed at your home. This will increase the chances that your beloved pet will be returned to you should they get lost or stolen.
Nail Trimming & Anal Sac Expression
​
Does your pet need their nails trimmed? No problem! What about their anal glands expressed? No problem either!
Hospitalization, Radiographs, Dentistry, and Surgery
​
These services, including spays and neuters, are provided by Caradoc Animal Clinic in Strathroy, Ontario.
Rabbit Surgery
​
The surgeries we perform include, but are not limited to: spays, neuters, bladder surgeries, amputations, enucleation (eye removal), and dental surgeries.
Specialist Referrals
​
If needed, we can arrange for your pet to receive more specialized diagnostics or care in areas such as ophthamology, neurology, cancer management and chemotherapy.
Chronic Disease Care
​
Many pets with chronic diseases, such as arthritis, diabetes, renal disease, or cancer, can be managed well through home visits. Appropriate medications, supplements, and/or diets may be prescribed to extend and improve quality of life.
In-Home Euthanasias
​
Making the decision to euthanize your pet will be one of the most difficult decisions of your life. We will help you assess your pet's quality of life, and offer guidance and support. Most importantly, your pet will be able to pass peacefully in a familiar environment surrounded by loved ones.
FREQUENTLY ASKED QUESTIONS
What equipment am I required to buy for SCUBA class?
---
None of our students are required to pre-purchase equipment before classes start. For our group classes we charge $69 per day for the rental or an entire equipment scuba system. Most student are able to complete the open water program in 2-3 days. Once you have completed the program you will be rewarded the entire rental costs back in the form or credit towards a new equipment system purchase. Equipment rental fee's are included in the price of all Private Classes. When you are ready to buy, we offer exclusive "student only" discounts you won't even find online.
---
Where will I be learning and diving during this class?
---
100% Online Practical Your entire practical training is an app based e-learning experience. We partner with the only agency in the world that does not sell paper and plastic good. RAID is the most enviromentally friendly training agency in the world. Lake Denton - Avon Park, Florida We now do almost all of our introductory training on-site at Lake Denton. We do not spend any time in a classroom with walls. 100% of your training takes place at the dive site!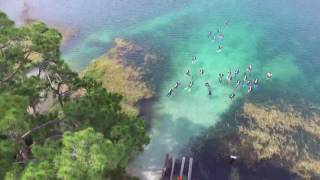 ---
---